Posted on November 16 2017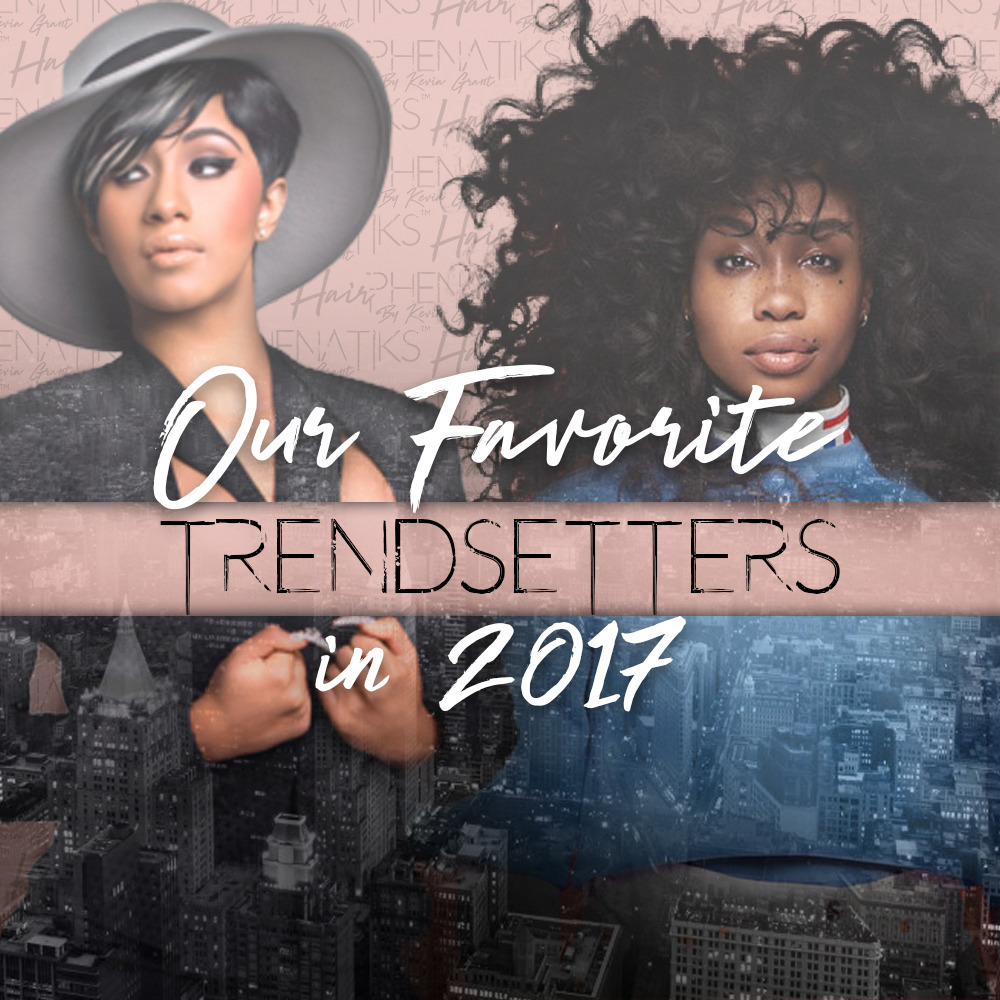 Our Favorite Trendsetters in 2017
As hair stylists, we're always keeping an eye out for the latest trends, styles, and new fashion choices. Our favorite trendsetters in 2017 hit the mark with their amazing and ever-changing array of hairstyles. However, we also look up to them because of their flawless confidence and self-expression. This year, some of our favorite hip-hop artists to watch were Cardi B and SZA. What were their most inspiring styles and moments from 2017?
Cardi B
Cardi B is new on the hip-hop scene, and we're so glad she's here. She got her start in exotic dancing and Instagram fame, and through hard work and relentless self-reliance, she moved out from the Bronx and into the number one spot on the US Billboard Hot 100 Chart.
Her attitude is just as stunning as her looks. Cardi B knows who she is. She knows beauty is all about being confident and comfortable in the skin she is in. When it comes to her hair, it's on fire. During 2017, she rocked plenty of different looks on her Instagram account, each as amazing as the last. Long locks, short bobs, and everything in between was styled and flaunted, and had us seriously inspired.
Because of her trendsetting looks, we started carrying our own Cardi B inspired celebrity wig here at Hair Phenatiks. Her popular look is the short ultra clean and classy bob, and now you can rock your own with our Cardi B inspired lace unit! This wig is low maintenance and super versatile… just like Cardi B. It's perfect for a professional setting, but then transforms into an elegant and sexy style for a night out. If you're as enamored with Cardi B as we are after watching her career in 2017, definitely don't miss out on this lace wig!
SZA
The breakout hip-hop artist SZA is another one of our favorite trendsetters in 2017. This singer-songwriter has rocked our R&B world with "Love Galore" this year. Like Cardi B, SZA has no qualms about showing the world exactly who she is. She's so confident, she even self-released her first album before she was signed to a major label! So inspiring!
If you're into fearless hairstyles, you definitely should follow SZA on her Instagram account. This past year, she has effortlessly worn some of our favorite looks, like these stunning and super voluminous curls. We're also totally in love with this unique red color she debuted for a late summer style.
Cardi B and SZA are our favorite trendsetters in 2017. They have fearlessly rocked an ever-changing array of styles throughout the year, and we've been in love with each and every one of them. Besides their outward beauty, we also admire their inner selves. Confidence is key, and these ladies show us that you can never have too much!
If you're ready to take a page from their books and explore a new, sexier, more confident side of yourself this holiday season, don't miss our upcoming deals!
On Black Friday, Hair Phenatiks will offer FREE SHIPPING across the entire site, so you can order the wig you've been eyeing totally guilt free. Free Weave & Wig Installation with ANY purchase of our Lace Wigs or 3 Hair Bundles or more! Nov. 20-24th So Book Now!
On Cyber Monday, get 30% OFF EVERYTHING sitewide!
Now is the time to embrace your inner beauty, and show it to the world!